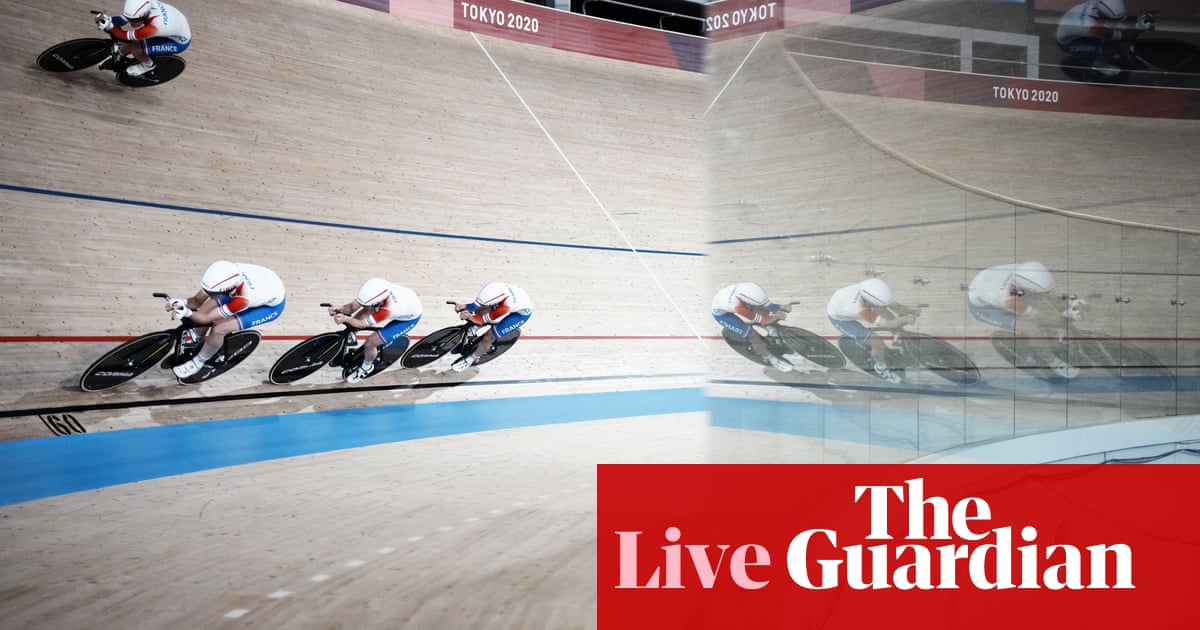 Swimming: Upon his return to London, Adam Peaty told a press conference he had been "handed champagne all the way home" and has not had time to reflect on his victory yet.
The 26-year-old from Uttoxeter won two golds and a silver at Tokyo 2020 and has since announced he will take a long break from the pool in a bid to prioritise his mental health.
"I'm going to take a few months off from the sport," he said."I've been pushing for so long, so it's an outrageous amount of effort from not only myself but from my team.To be part of this team is very special.
"People are scared to race us now.We're a small nation going against America and we're going to try our best.We're not scared to win."
Adam Peaty signs autographs for fans awaiting his return to Heathrow Airport.Photograph: Aaron Chown/PA Facebook Twitter 8.24pm BST 20:24
Women's weightlifting: History was made on a Tokyo evening of superhuman strength and simmering tension as Laurel Hubbard, a 43-year-old weightlifter from New Zealand, became the first openly trans woman athlete to compete at an Olympic Games .Sean Ingle reports …
Laurel Hubbard's Olympic dream dies under world's gaze Read more Facebook Twitter 8.15pm BST 20:15
Women's football: United States triumphs at the 2015 and 2019 Women's World Cups were defined by squads which peaked at exactly the right time, writes Jeff Kassouf .
The talent was undeniably there, but in 2015, it took half a tournament to find the right combination.Four years later, the path was more difficult, but the team clicked from start to finish, besting four tough European foes in the knockout stage.
The timing at the Tokyo Olympics, however, could not have been worse.A team rich with talent could not establish any rhythm at these Games, and the Americans' struggles culminated with a semi-final loss to Canada on Monday in which the US had ample time on the ball but few ideas in the final third – a criticism which haunted the team after its previous Olympic failure.
USA coach Vlatko Andonovski fiddled but his players burned at the Olympics Read more Facebook Twitter 8.00pm BST 20:00
Athletics: On Sunday night, having just become the first Australian to qualify for the men's Olympic 800m final since 1968, Peter Bol was asked about the significance of his historic achievement, writes Kieran Pender ."What does it mean to Australia?" he replied.Bol's rhetorical question was probably meant in a sporting sense.
But the rise of the nation's latest middle-distance star prompts broader questions about Australia, too.
Bol was born in Khartoum, Sudan, in 1994.His mother is Sudanese, his father from the region that would become South Sudan.It was a time of turmoil in Sudan and the Bol family soon left for Egypt, before arriving in Australia in 2004.There is some misinformation circulating around his story – his Wikipedia page says he and his family came from a refugee camp in Egypt, but he has never been in one.
Bol has in the past acknowledged the long-and-difficult-road-to-sporting-success storyline is a powerful one, but he also feels uncomfortable with the use of stereotypes within that narrative.
Read on …
Peter Bol: 'Get to know the person, instead of the assumptions' | Kieran Pender Read more
Australia's Peter Bol celebrates his qualification for the men's 800m final.Photograph: Abbie Parr/Getty Images Facebook Twitter 7.52pm BST 19:52
Women's football: The Matildas pushed Sweden to their limits in the semi-final and expectation is rising after their extended run in Tokyo, writes Samantha Lewis .
Gustavsson's fiery edge gives belief Australia can win Olympic bronze Read more Facebook Twitter 7.45pm BST 19:45
Michael Johnson (@MJGold) Putting this to rest! Winning ANY Olympic🏅 is incredible.
I was always favored for 🥇 so 🥈🥉 would be disappointing.But if I were a projected finalist,🥉 is a win! Don't listen to people whose only sport is stirring up shit.Regardless how many followers they have.#Olympics
August 2, 2021 Facebook Twitter 7.19pm BST 19:19
Athletics: I don't understand why people come up with stuff like that.I just don't get it.It's very cruel." Beatrice Masilingi is 18, born and raised in Katima in the Zambezi region of Namibia.
In the humid bowels of Tokyo's Olympic Stadium she was as excited as you might expect of any teenager who has barely raced outside her home country, who lists "my grandmother" as her key influence, and who had minutes earlier come cantering in behind Shelly-Ann Fraser-Pryce to make the women's 200m Olympic final.
If Masilingi was also a little wary, it is because she knows some part of the future is likely to take a difficult turn if she performs with the same level of grace and fire in Tuesday's final.
Masilingi is one of a pair of Namibian teenagers, schoolmates at Grootfontein Agricultural College, who have a serious chance of a medal in the blue chip sprint event of these Olympic Games .
At which point, that cruelty.In June Masilingi and Christine Mboma were barred by World Athletics from running in the 400m, their chosen event at these Games.In Tokyo they have already faced questions about whether they should be running at all, and indeed (again, aged 18) whether they should be classing themselves as women at all.
This stems from something both Masilingi and Christine Mboma were born with.
Naturally occurring raised testosterone levels mean both have been classified as DSD, or athletes with Differences of Sexual Development, and placed – to their surprise – in a strange, indeterminate category of sporting womanhood.Read on …
Masilingi and Mboma racing against Olympic elite and complex cruelty Read more
Beatrice Masilingi of Namibia, qualifies for the final of the women's 200m.Photograph: Petr David Josek/AP Facebook Twitter 7.07pm BST 19:07
The Guardian view: By seeking asylum in Poland following what was ostensibly a sporting dispute, 24-year-old Belarusian athlete Krystsina Tsimanouskaya has followed in the footsteps of thousands of others deserting Alexander Lukashenko's totalitarian state.
Ms Tsimanouskaya had publicly criticised the Belarus team's coaches for failing to conduct the necessary doping tests ahead of the women's 4x400m race.When she refused to be sent home in disgrace, a leaked tape revealed that a member of the Belarus delegation had told her: "Let this situation go.
Otherwise the more that you struggle, it will be like a fly caught in a spider's web: the more it spins, the more it gets entangled." If the chilling menace contained in these words seems disproportionate, the tone probably comes from the top: the head of the Belarus National Olympic Committee is Mr Lukashenko's son Viktor.Read on …
The Guardian view on Belarus: an Olympic athlete joins the exodus | Editorial Read more
Belarusian sprinter Krystsina Tsimanouskaya arrives at the Polish embassy in Tokyo.Photograph: Kim Kyung-Hoon/Reuters Facebook Twitter 6.55pm BST 18:55
Equestrianism: Great Britain won their 11th gold in Tokyo with victory in the Olympic team eventing title for the first time in just shy of half a century.
World number one Oliver Townend, Laura Collett and Tom McEwen booked themselves the top spot on the podium before McEwen bagged himself silver in the individual competition.
"It's not really hit me yet, it's been a super special experience," said McEwen.
"To get the gold with a record score has been phenomenal.
"In the last few years I've messed up in many a place where I probably shouldn't have done but he's been a very special partner.I loved the pressure this week, I've loved being in this team and we've had to perform.To get that team gold after 49 years is really special.
"We are new to this experience, we've all just embraced the pressure and we've got three amazing horses.They deal with a lot more pressure than I ever would, they keep calm and relaxed at all points, so I followed in their steps."
(left to right) Tom McEwen, Laura Collett and Oliver Townend celebrate victory.Photograph: Kai Försterling/EFE/FEI Facebook Twitter 6.45pm BST 18:45
Ground staff water the pitch before the start of a women's semi-final football match between Australia and Sweden at the 2020 Summer Olympics.
Sweden won the game 1-0 to advance to the final.Photograph: Kiichiro Sato/AP Matildas' quest for Tokyo Olympics gold ends with 1-0 semi-final loss to Sweden Read more Facebook Twitter 6.32pm BST 18:32
Weightlifting: With one extraordinary act of strength and defiance, Emily Campbell ripped a 158kg barbell off the floor, rested it on her shoulders, and began to squat, writes Sean Ingle.With another she exploded upwards to thrust the weight – more than two beer kegs worth put together – high above her head.
There was a little wobble of the knees.A steadying smile.Then a beep.And, just like that, Britain had its first ever female Olympic weightlifting medallist – and surely its most powerful, heartwarming and potentially life-changing story of these Games.Read on to find out why …
Britain's Emily Campbell wins historic Olympics weightlifting silver medal Read more Facebook Twitter 6.28pm BST 18:28
Gallery: The best images from the 10th day's action in Tokyo, including diving, water polo, athletics and basketball.
Tokyo Olympics 2020: day 10 – in pictures Read more Facebook Twitter 6.23pm BST 18:23
Swimming: Great Britain's national performance director Chris Spice has been basking in the glow of a job well done and is looking forward to the prospect of even more glory at the Paris Olympics.
Team GB collected a record eight swimming medals with four golds, three silvers and a bronze, representing their best ever haul at a single Games, achieved by those who will have high hopes of going to France in three years.
"One of the great things is that 75 per cent [of the swimmers were] in their first Olympics.The extra year has helped us.
No doubt about it.
Our team looks totally different than it would have looked last year.
"The experience now that the group have got from coming here, the experience those youngsters have got, we want to get better each Olympics.Our plan is not to stand still.The minute you stand still you get overtaken.
"Our plan is to keep pushing in every single aspect of performance, science and medicine and the innovation projects that we have got going.We are still going to push.Our goal will be to be better in Paris.That doesn't mean it is going to happen because we've got to work hard to make it happen."
Only the United States and Australia finished ahead of Britain in the swimming medals table, but Spice acknowledged those countries, along with one or two others, have greater funding in locating and nurturing fresh talent.Spice, though, estimates they can go up another gear or two by directing the resources they do get into different channels to discover untapped potential within Britain.
When asked how much better, in percentage terms they can be, the British Swimming chief replied: "I think there is another 10 to 15 in the short-term, but probably in the long term another 25.
"There is still investment going in to different areas that we haven't got outputs yet.
That coupled with the talent we have in this group and the fact that they are young and moving forward is significant.
"There is a whole range of stuff we haven't hit yet.We have got a bit up our sleeve.Equally we are never going to be as deep as China, Russia and America, we have to maximise our potential, Australia too of course.
"They have got a lot more numbers than us.We have to maximise the talent we have got – we have to get a gem early."
A lot done more to do, says Chris Spice, the performance director of British Swimming.Photograph: Alex Pantling/Getty Images for British Olympic Association Facebook Twitter 6.11pm BST 18:11
Kon'nichiwa everybody.Seeing as Adam got the cross-promotion ball rolling, it behoves me to inform you that I'll be participating in a Guardian Football Weekly Live (online) Premier League preview on Thursday 12 August.Details below …
Membership Event: Football Weekly Live: Premier League preview
Facebook Twitter 6.04pm BST 18:04
Actually, a plug as I run out the door…I'm on a Guardian Live (online) panel at 7pm BST if cricket is also your jam.
£5 – swing by.
Membership Event: Summer of cricket, with Emma John and guests
Facebook Twitter 6.00pm BST 18:00
Adam Collins
Right, that's me.Thanks for your company on another fine Olympic day.Indeed, with the Test cricket starting on Wednesday, that's my final stint on the live coverage; it's been a true delight.I'll leave you with Barry Glendenning as we build towards day 11 in Tokyo.
Bye!
Facebook Twitter 5.51pm BST 17:51
A nice, uplifting piece by Tom Dart at the wrestling.
Is US wrestler Tamyra Mensah-Stock the most upbeat athlete at Tokyo 2020? Read more
Facebook Twitter 5.48pm BST 17:48
This is my quote of the Olympics."I am not happy," he said."Who shoots into someone else's target? Only people like me."
'I shot someone else's target': Ukraine's Serhiy Kulish suffers Olympic blunder Read more
Facebook Twitter 5.44pm BST 17:44
A gutting result for the Matildas, going down 1-0 to Sweden in the football semi-final.Australia's women pulled off a stunning come-from-behind extra-time win over Team GB on Friday, inspiring genuine belief that they could go all the way, but couldn't repeat the dose in the final four.
Emma Kemp reported on the match.
Matildas' quest for Tokyo Olympics gold ends with 1-0 semi-final loss to Sweden Read more Facebook Twitter 5.40pm BST 17:40
A big story that continues to move quickly.Krystsina Tsimanouskaya, the Belarusianm sprinter, has received a humanitarian visa from Poland.Andrew Roth has the details.
Poland's deputy foreign minister, Marcin Przydacz, wrote on Twitter on Monday that the Belarusian sprinter was in direct contact with Polish diplomats and had been granted a humanitarian visa to the country, where she is expected to fly later this week."Poland will do whatever is necessary to help her to continue her sporting career," wrote Przydacz.
Belarus athlete who refused to fly home is granted Polish visa Read more Facebook Twitter 5.34pm BST 17:34
Penalty shootout.Those two words; so emotionally loaded in this corner of the world.But as Team GB in the women's hockey, it mattered not a jot.After finishing 2-2 against Spain in the quarter final, they did not buckle in the shootout, Maddie Hinch denying all four Spanish penalty takers.Next stop for the defending champions: the Netherlands on Wednesday in a semi-final blockbuster.
Steve McMillan reported on the thriller from Oi Hockey Stadium.
Hinch's heroics deny Spain and put Britain into Olympic hockey semi-finals Read more Facebook Twitter 5.29pm BST 17:29
"When will we see Sky Brown?" asks Karl Perleberg.
Wednesday, with the final at 4:30am BST.Who is Sky Brown? The superstar who will be 13 and 23 days (!) when she competes in the park skateboarding.And you can dare to dream, explains Jonny Weeks.
She will be just 13 years and 23 days old when she tackles the bowls at the Ariake Urban Sports Park.And there's every chance she'll win a medal, having won bronze at the world championships in São Paulo in 2019 and silver at the Dew Tour in Des Moines in May this year.
Sky Brown ready to wow the world as 13-year-old skateboarder makes Olympic bow Read more Facebook Twitter 5.23pm BST 17:23
The daily briefing is here.
I'll keep saying it: this is the email you need to subscribe to with Martin Belam doing a fine job of capturing the highlights of each day then peeking at the best to come.
Sign up!
Tokyo 2020 Olympics briefing: rain, pain, and equestrian glory for Britain Read more Facebook Twitter 5.12pm BST 17:12
Andrew Hoy! When I was a kid in Australia, you knew Andrew Hoy was a champion.He looked old then, even though he probably wasn't.His first Olympics were LA in 1984.He struck gold in 1992 at Barcelona in the team eventing.He wasn't on Kibah Tic Toc, but there is every chance the horse would have been given a tickertape parade, such was the national joy at winning anything in those days.
In Atlanta 1996 they defended the title.
By Sydney 2000, triple champion Andrew Hoy had a brilliant ring to it.At age 41, a five-time Olympian, you retire, right? Not Andrew Hoy.To Athens and Beijing and London and Rio.No medals, but there he was, a staple.
And so it was today at age 62, on Vassily de Lassos, riding the Aussie trio to a silver medal in the competition he won some 27 years ago in Spain.Then to underline his longevity, he went and snaffled the bronze in the individual event, just as he did 21 years ago at Sydney.
Andrew Hoy is equestrian.
Kieran Pender picks up the tale.
Andrew Hoy is Australia's oldest Olympic medalist at 62 after equestrian silver Read more Updated at 5.12pm BST
Facebook Twitter 4.46pm BST 16:46
Tamyra Mensah-Stock was running at a happiness rating of 10 long before she made it into the women's 68kg freestyle wrestling final.
The day landing into Japan, I knew I was going to have fun in Nakatsugawa.
They're freaking awesome! They let me karaoke literally every single day.It was awesome!
Imagine how happy she is now then?
Is US wrestler Tamyra Mensah-Stock the most upbeat athlete at Tokyo 2020? Read more Facebook Twitter 4.30pm BST 16:30
The future is bright (x2) for British gymnastics:
Gadirova twins show Team GB's future in gymnastics is bright Read more Facebook Twitter 4.21pm BST 16:21
What a compelling first day in the velodrome .Worth the wait.For Team GB, it wasn't quite the continuation of the dominance we saw in Rio, but there's time for that to change when they start dishing out medals tomorrow.
As for Australia, Alex Porter's nasty crash – eeek.Kieran Pender was there to write about the session.
Team GB eclipsed by Denmark's Olympic record in men's team pursuit Read more Facebook Twitter 4.08pm BST 16:08
In case you missed it earlier: Simone Biles is going to compete in the balance beam individual competition tomorrow.This was one event she didn't actually win in Rio, taking the bronze.The eyes of the world will be on her routine – what a story if she can win it.
"Hi Adam." James Twigg, hello."Slightly veering off the Olympics here but if there's one thing the shared gold emphasised above all else it was that the Cricket World Cup should have been shared between NZ and England! Just so much better than a contrived tie-breaker that makes the winner feel lucky and the loser cheated.
Loving the coverage – keep up the great work."
Look, this wasn't a popular view at the time (and one I didn't subscribe to because I had the enormous joy of commentating the Super Over on radio! ) but it is one I've come around to recently.
Simone Biles to compete in balance beam final, USA Gymnastics says Read more Facebook Twitter 3.50pm BST 15:50
We have an answer on the pole vault query.George Davidson, step up."The depth of the PV is how far forward or back from the vertical, upright poles the horizontal pole is set.
Each vaulter can ask for it to be set where suits them and the conditions.It's never normally shared but is fascinating.Usually governed by valuters confidence, any wind and which pole they are using.e.g.
a springy one or a stiff one." Fascinating it is – thanks for sharing.George's athletics bits and pieces are on twitter at @MrHenryGee .*Follow*
Facebook Twitter 3.46pm BST 15:46
"Good afternoon Adam." Hello to you, Des Brown."At the end of Day 10 at the Tokyo Olympics, Team GB now have 11 Golds, 12 silver and 12 Bronze – a total of 35 medals.That's more than the final medal total of Sydney 2000 (28 including 11 Golds) and Athens (30, including 9 Golds).In terms of where Team GB are in comparison with the last 3 Games at the end of Day 10:
Beijing 2008 – 12 Golds, 7 Silver and 9 Bronze.A total of 28 medals.
London 2012 – 18 Gold, 11 Silver and 11 Bronze.
A total of 40 medals.
Rio 2016 – 16 Gold, 17 Silver and 8 Bronze.
A total of 41 medals.
So in terms of total medals, at this stage Team GB are ahead of Beijing and not that far behind London and Rio."
To get into the Olympic spirit last week I popped on the BBC Goldrush documentary charting Team GB's Atlanta 1996 to London 2012 rise.Well worth a look.It makes the obvious point that if you pour hundreds of millions in from a national lottery, and you're a host city, there will be a return on investment with medals.And much as it was with Australia/Sydney, the success continues.
Facebook Twitter 3.31pm BST 15:31
The best bit about the shared gold medal yesterday? How angry it has made the usual suspects.And if it is good enough for the godfather of high jump, that should be the end of the matter.
Dick Fosbury (@DickFosbury1) I'm not bothered by it.It was a perfect competition, with no misses until out.
They are great champions! https://t.co/SAfvjqeWPs
August 2, 2021 Facebook Twitter 3.28pm BST 15:28
"Hi Adam!" Allo, Daniel Cavanillas."First of all I want to give you a big thanks for the great coverage you people at the Guardian are doing of the Olympics." Thank you, it's a true pleasure.
"As someone who absolutely loves watching the pole vault competition but knows very little about it, today during the women's qualification I noticed that the screens on the stadium show the current height that the athletes are jumping over (say, 4.25 metres) and also the depth , which also seemed to be varying somewhat randomly.Do you know what the 'depth' refers to? Is it something the athletes chose? Is it part of the competition? I am utterly confused but still amazed by this beautiful sport!"
Hmm, not sure.I've consulted my main track and field pal in these parts, Gary Naylor, who isn't either."My guess would be something to do with the alignment of the bar and the box into which the pole is planted.I saw a lot of Bubka and it was never mentioned."
While we're talking Bubka, it annoys me endlessly that there's so much focus on the gold medals he didn't claim – it even came up in the opening ceremony the Friday before last.How about the one he did, in magnificent style, at Seoul 1988? Joyous scenes.
Facebook Twitter 3.21pm BST 15:21
A daily treat.
The picture gallery from Tokyo, for your enjoyment.
Tokyo Olympics 2020: day 10 – in pictures Read more Facebook Twitter 3.09pm BST 15:09
Basketball: Australia's winless women's team had to thrash Puerto Rico to sneak into the quarter finals, despite finishing third in their group, and thrash them they did, 96-69 winners.Granted, they have entered this tournament short of full strength, but for a team that won three consecutive silver medals in 2000, 2004 and 2008, it's quite a drop to scrape into the top eight.The quarter final draw is tomorrow ahead of the elimination stage starting on Wednesday.
Facebook Twitter 3.01pm BST 15:01
Volleyball: As is almost always the case, the final event on show to complete the tenth evening of competition is the volleyball, with Brazil's exceptional and undefeated women's team up against the winless Kenya.And they are finishing the Pool A round robin stage in style, claiming the first set 25-10 and the second 25-16.
Facebook Twitter 2.56pm BST 14:56
Badminton: I knew I missed one gold medal match in that final flurry at the stadium – the men's singles.But reader Lars Bøgegaard had it on in Copenhagen.
"One of the most beautiful Olympic moments!" he says of his countrymen Viktor Axelsen's win, taking the gold after a clinical 21-15, 21-12 triumph over China's Chen Long – the defending champion."Immediately Axelsen started to cry and couldn't stop.'I'm crying.That's okay, isn't it?' He asked the Danish Broadcasting Services interviewer before cutting of their talk."
If you can't cry tears of joy after winning Olympic gold, when can you in the cold world of professional sport? Here it is – lovely stuff.
Badminton Eropa (@badmintoneropa) [email protected] was absolutely superb!! He didn't lose any game since the beginning of the tournament.He got 🥉 five years ago, now he converted it into a 🥇!! YEAHHHH #BadmintonEropa #ViktorAxelsen #DEN @baddk pic.twitter.com/UpGidkF0cM
August 2, 2021 Facebook Twitter 2.47pm BST 14:47
All the medals have been won for day ten.
China and the US have pulled away from Japan and Australia, Not Russia in fifth place.
Tokyo 2020 Olympics: full medal table Read more
Facebook Twitter 2.39pm BST 14:39
Shooting: Ahh, wrong target? Some story this, thanks to Reuters.
World number two Serhiy Kulish left the Asaka Shooting Range cursing himself after committing one of the most extraordinary howlers at the Tokyo Olympics – hitting an opponent's target.
The Ukrainian shooter had sailed into Monday's final of the men's 50-metre rifle 3 positions event chasing a second Olympic medal to go with his 10m air rifle silver in Rio five years ago.
While eventual winner Zhang Changhong of China led the eight-shooter group for much of the final, Kulish, in fourth place after 30 shots, was initially hovering around the medal bracket.
His nightmare unfolded in the seventh series when he fired at a rival's target, and was soon the first of the eight shooters to be eliminated after his 35th shot was deemed to be worth nought.
More than his ouster, the manner in which it happened rankled the shooter.
"I shot into someone else's target," the 28-year-old fumed.
"I am not happy.Who shoots into someone else's target? Only people like me."
Kulish at least knows what caused the lapse in his concentration.
"The button on my jacket came undone and I felt some discomfort, but time passed and I had to make a shot so I didn't notice that I was already aiming for someone else's target."
It was a massive setback to the medal hopes of the shooter from Cherkasy who has had limited training opportunities heading into the Tokyo Games.
"We don't have a shooting range and that is a problem.We have to go abroad to train and that is a problem.For now there is no solution," he said.
"I have a shooting range in my city, but it only has five targets so it is impossible to hold competitions there.
"There is no place to hold competitions; there is no place to grow new athletes and that is a problem," added Kulish.
One more time on this glorious quote: "I shot into someone else's target," the 28-year-old fumed."I am not happy.Who shoots into someone else's target? Only people like me."
'I shot someone else's target': Ukraine's Serhiy Kulish suffers Olympic blunder Read more Updated at 3.24pm BST
Facebook Twitter 2.36pm BST 14:36
Hockey: Pérez v Hinch, take two.
One save on the backstick, a rebound, a second attempt and it's over the top! Maddie Hinch has kept a clean sheet in the penalty shootout putting Team GB through to the semi-final against the Dutch on Wednesday.
Great Britain celebrate victory in the women's quarter-final hockey match against Spain.Photograph: Alexander Hassenstein/Getty Images Updated at 3.04pm BST
Facebook Twitter 2.34pm BST 14:34
Hockey: Sarah Jones scores after nailing her dummy to perfection! Spain must score here, with their fourth penalty, or it is all over.
And they don't! Team GB are into the semi-finals! Hinch saves the secondary effort after the first shot hits the bar – drama! Hold on, Spain are referring the decision.Has there been a push on Beatriz Pérez? Nervous moments as the video ref makes her call: "There was contact, there will need to be a re-take." Blimey!
Updated at 2.34pm BST
Facebook Twitter 2.31pm BST 14:31
Hockey: Two misses to begin.In hockey, the shootout is a running start from the forward third line rather than going to the spot.And Hinch saves Spain's second, accutately antipating Garcia's backstick effort! Now Martin replies by scoring on the rebound! It prompts the Olympics DJ to play the best Eurovision winner of all time.
Facebook Twitter 2.24pm BST 14:24
Hockey: We're off a shoot out! Team GB and Spain finish their quarter final 2-2.
BBC voiceover: "I promise you this is on BBC 1" before the coverage I am watching moves to…something else.Odd.
Updated at 2.26pm BST
Facebook Twitter 2.17pm BST 14:17
Hockey: Spain equalise with Team GB! It's 2-2 with seven minutes to go in the quarter final.Tense times for the defending champions.
Facebook Twitter 2.15pm BST 14:15
Athletics: That's the end of another brilliant night of track and field.I'm already excited about tomorrow night, where Elaine Thompson-Herah looks wonderfully placed to break Florence Griffith Joyner's 1988 world record of 21.34 in the women's 200m final.
"Hi Adam." Hello, Jim Wicks."I believe that Weightlifting silver means that GB are top of a medal table! Medallists in 18 different sports, ahead of China and the USA in 17.
And that also doesn't include athletics for GB…yet." Creative! I like it.Well played.
Facebook Twitter 2.11pm BST 14:11
Valarie Allman wins the women's discus for the USA! In the end, her throw of 68.98m in the opening round of the rain-affected competition was enough to rule the roost.
Kristin Pudenz (GER) wins silver and Yaime Pérez (CUB) takes the bronze.Allman gets to celebrate with one final throw as the Olympic champion but it matters little – she has a precious gold medal.Sandra Perkovic, the two-time world champion from Croatia, finishes in fourth.
Valarie Allman of the United States in action.
Photograph: Aleksandra Szmigiel/Reuters Updated at 2.22pm BST
Facebook Twitter 2.07pm BST 14:07
Gold for Aline Rotter-Focken (GER) in the women's 76kg freestyle wrestling! That's two gold medals in an hour for the Germans, Rotten-Focken overcoming American Adeline Gray in the decider.
Facebook Twitter 2.05pm BST 14:05
Athletics: Sandi Morris (USA) is out of the women's pole vault in qualifying! One of the big stars of track and field, and the silver medal winner in Rio, she's failed to clear 4.55m on three occasions in the wet at the stadium, breaking into tears on the mat.
Facebook Twitter 2.03pm BST 14:03
Hockey: Team GB's women are back in the lead against Spain their quarter final, taking a 2-1 advantage into the final stanza.
Great Britain Hockey (@GBHockey) 37′ 🇪🇸 1-2 🇬🇧
Oh what a beauty! It's a classic @Balsdon_Grace rocket to restore our lead 🚀🚀🚀
📺 @discoveryplusUK , @Eurosport_UK E5 & BBC iPlayer/Red Button
💻 https://t.co/zlHsSiRu8J #ESPvGBR #Tokyo2020 pic.twitter.com/fXTkcwxRvc
August 2, 2021 Facebook Twitter 2.01pm BST 14:01
Sean Ingle has an update from the weightlifting mixed zone.
Laurel Hubbard, who became the first openly trangender Olympian earlier tonight, has been speaking in the mixed zone after bombing out of the women's over-87 super heavyweight category.
She spoke for just under three minutes, often breathing heavily as she thanked the IOC, NZ Olympic Committee and Japanese organisers."I know that my participation in these Games has not been entirely without controversy," she said."But I think they've been just so wonderful.They've been such a help, and I'm so grateful to them all.Thank you."
She did not take questions but also told journalists:
"Thank you so very much for your interest in my performance this evening," she said."I know that from a sporting perspective, I haven't really hit the standards that I've put on myself, and perhaps the standards that my country was expecting of me.
But one of the things which I'm so profoundly grateful for is the supporters in New Zealand that have just given me so much love and encouragement, and I really wish I could thank them all at this point but it's just too many."
New Zealand's Laurel Hubbard makes a heart shape with her hands.
Photograph: Stanislav Krasilnikov/TASS Updated at 2.17pm BST
Facebook Twitter 1.59pm BST 13:59
Football: Sweden 1-0 FT.
They go on to face Canada in the gold medal match with the Matildas playing for bronze against the USA.
Australia 0-1 Sweden: Tokyo Olympics 2020 women's football semi-final – live! Read more Facebook Twitter 1.58pm BST 13:58
Sifan Hassan (Netherlands) wins gold in the women's 5000! Forget what I said about it being a race in four, the Dutch superstar kicked with 300m to go and won by 30 metres! What a stunning final lap, timing her run magnificently.She wins it in 14:36.79.
Sifan Hassan of Netherlands reacts as she wins the gold medal in the Women's 5000 metres.Photograph: Ryan Pierse/Getty Images Updated at 2.18pm BST
Facebook Twitter 1.56pm BST 13:56
Athletics: A race in four as the bell rings in the women's 5000: Obiri (KEN) leading Taye (ETH), Tsegay (ETH) and Tirop (KEN).
Updated at 1.58pm BST
Facebook Twitter 1.54pm BST 13:54
Football: There are five minutes of added time to come for Australia to find a goal to take it to extra time, but Sweden still lead them 1-0.
Facebook Twitter 1.53pm BST 13:53
Germany's Julia Krajewski wins eventing gold! Some history too, as the first woman to win it.Remarkably Andrew Hoy, at age 62, has secured the bronze after claiming silver earlier in the day in Australia's team eventing trio.Hoy's first Olympics was LA in 1984, his first equestrian gold at Barcelona in 1992.
Facebook Twitter 1.48pm BST 13:48
Athletics: Back to the stadium, where the women's 5000m is 1400m in as we pick it up.After leading them around for a couple of laps, Japan's Ririka Hironaka has been overtaken by Kenyan pair Hellen Obiri and Agnes Jebet Tirop.And now another change, with the Ethopian Ejgayehu Taye hitting the lead.Seven laps to go!
Facebook Twitter 1.45pm BST 13:45
Football: Sweden's women are holding Australia off, leading 1-0 at the 84 minute mark in their semi final.
Follow it all live with JP.
Australia v Sweden: Tokyo Olympics 2020 women's football semi-final – live! Read more Facebook Twitter 1 of 6 Newest Newer Older Oldest.