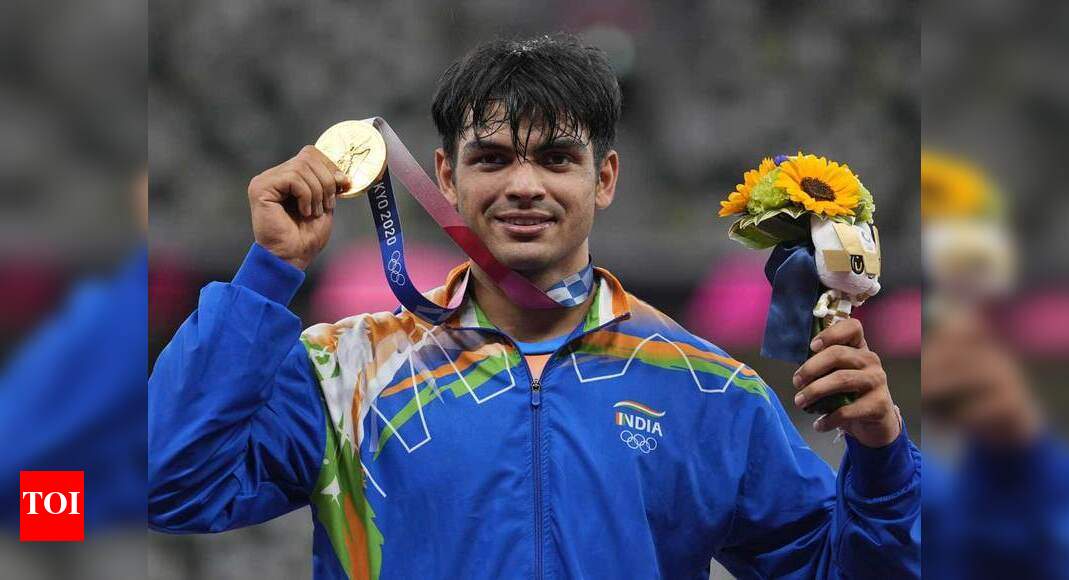 India is eyeing historic medals from golf and athletics, apart from one more in wrestling, as Aditi Ashok, Neeraj Chopra and Bajrang Punia make a final push to turn Tokyo 2020 into India's most successful Olympic campaign.Stay with Times of India to get all the live updates on Olympics 2021, India Events at Tokyo Olympics, Results, Medal Table and more on Times of IndiaRead Less Another par for Aditi on the 16th hole, but Lydia gets a bogey and Aditi is back to Tied-3rd.India is rooting for Aditi….climax coming up Members at @aditigolf's home club in Bengaluru gather around the TV and follow her progress in the final round of… https://t.co/t9vWl0DVai — Joy Chakravarty (@TheJoyofGolf) [1628306111000] It's getting way too tight at the top.Aditi slips to the 4th position after Lydia Ko putts a birdie and the Indian could only par on the 15th hole.Aditi registers a birdie on the 14th hole, stays locked in a three-way tie for the second place.But after others in medal contention putted the 14th hole, Aditi slipped a place to Tied-3rd.In case you are wondering how a tie between players is broken at the end of 72 holes played across four rounds, a three-hole playoff decides the medal.
Arjun Atwal is cheering for Aditi as the Stroke Play enters the last five holes Putt them to death…AA!! @aditigolf — Arjun Atwal (@Arjunatwal) [1628303181000] Aditi putts a birdie on the 13th hole to consolidate her Tied-2nd spot.
Aditi slips a place, to Tied 3rd.13th hole in progress.Aditi Tied-2nd after 12 holes in Round 4, six holes left before medals are decided A par by Aditi on the 12th hole.Japan's Mone Iname also throwing her hat in the ring now.
It's a three-way tie at the moment for the second spot between Iname, Aditi and New Zealander Lydia Ko.Bogey for Aditi Women's Stroke Play: Á bogey on the 11th hole leaves Aditi Ashok in Tied-3rd position.USA's Nelly Korda and Denmark's Emily Kristine in the first two spots, respectively.A par on the 10th hole pushes Aditi back up to Tied-2nd.
Aditi's card from the first nine holes in Round 4.Another nine holes left to play before the medals will be decided.Golf: The leaderboard after nine holes in fourth and final round of women's individual Stroke Play Aditi slips to Tied-3rd The Indian finished with a bogey on the ninth hole to complete her front 9.She is now Tied-3rd.
Another birdie for Aditi on hole No.8, her third in eight holes of Round 4 today.And it's again a three-way tie for the top spot between Nelly, Aditi and Lydia.Golf: Positions in top 3 changing every hole…but Korda stays on top Aditi drops back Tied-2nd spot after being Tied-1st for a brief while.It's tie for the first spot now at -14 each for Aditi, Nelly Korda (USA) and Lydia Ko (NZL).
Hole No.8 in progress in fourth and final round.That's how the women's golf leaderboard looks after six holes in the ongoing final round Consecutive birdies: Aditi back up to Tied-2nd spot Aditi putts Birdies on the 5th and 6th hole of the fourth and final round to reclaim her second position, tied with New Zealand's Lydia Ko.Family Affair: Aditi Ashok's caddie in Tokyo is her mom, in Rio it was her dad 🇮🇳 @aditigolf is spreading the #Olympics love with her family.❤️ At the 2016 #Olympics, Ashok had her father cadd… https://t.co/1UWSbbJK4C — Olympic Golf (@OlympicGolf) [1628123216000].