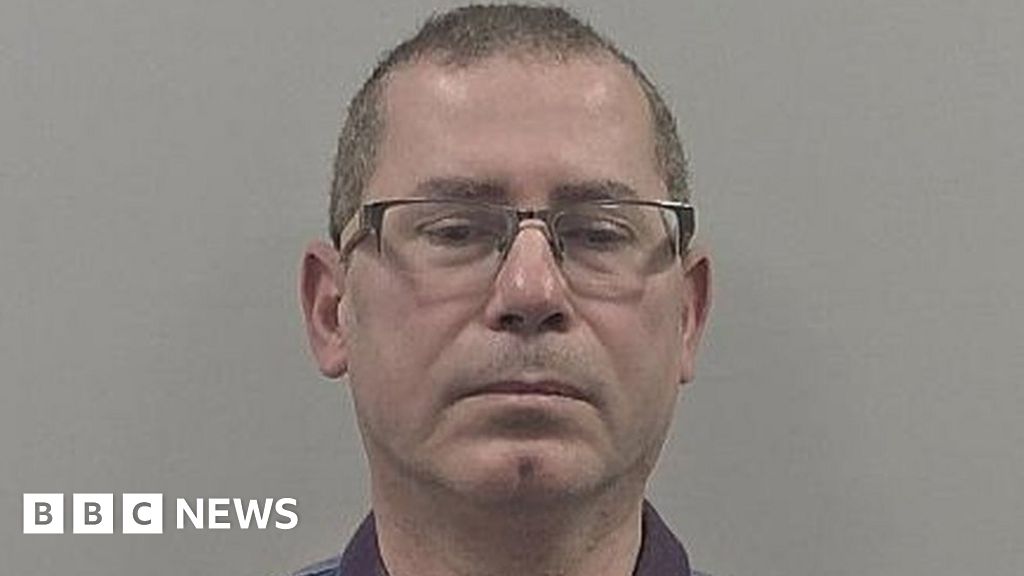 Doctor Hossam Metwally poisoned partner in 'exorcism ritual' Published
27 minutes ago
Share
close Share page
Copy link About sharing image source Humberside Police image caption Hossam Metwally recorded himself performing alleged exorcism rituals on his drugged partner An anaesthetist who poisoned his partner in a series of botched exorcism ceremonies is facing jail.
Hossam Metwally, 61, performed a "dangerous perversion" of the Islamic Ruqya ritual on Kelly Wilson at the couple's home in Grimbsy.
Sheffield Crown Court heard she suffered multiple organ failure from being injected with drugs.
Jurors found Metwally guilty of eight charges including administering a noxious substance and a count of fraud.
An eight-week trial heard Metwally, an NHS anaesthetist and chronic pain specialist, believed Ms Wilson was possessed by supernatural spirits known as jinns.
He believed there were a number of the entities "hiding" inside his partner, the court heard, and that he had to remove them by reciting verses of the Koran and placing holy water and oils on her skin.
Jurors heard he had performed more than 250 rituals, and made dozens of recordings over a four-year period starting in 2016.
'Most bizarre case' Extracts from 200 clips were shown to the jury, in which Metwally could be heard chanting "Bismillah Allah-hu-Akbar" as he administered fluids through a cannula to Ms Wilson as she lay on a bed.
In one, a black restraint is tied to a drugged and drowsy Ms Wilson's wrist as Metwally chants before pausing to mention a jinn called Magdulina, asking Ms Wilson: "Did you get her?"
"Bismillah.Go to them in your head," he says repeatedly.
Jurors also heard from an imam during the trial that the Ruqya was considered a valid practice but would never involve drugs or sedation.
Metwally was arrested after Ms Wilson fell into a coma on 4 July 2019.She was on the brink of a cardiac arrest and was taken to hospital that afternoon.
During investigations police found a "vast stock of drugs" at his home, including ketamine, propofol, fentanyl and Diazemuls.
image source Google image caption Hossam Metwally had a "vast stock of drugs" at his Grimsby home Following Metwally's conviction on Thursday, Judge Jeremy Richardson QC said he had "never been involved in a more bizarre case".
After lifting reporting restrictions on Friday, Judge Richardson told Metwally, who worked at at Northern Lincolnshire and Goole NHS Foundation Trust (NLGNFT): "It is a shocking circumstance that a doctor, a medical professional, should find himself in the dock awaiting sentence on such a serious criminal charge."
'Dangerous and cruel' Metwally, who qualified in his native Egypt, also worked in Saudi Arabia before practising in the UK.He moved to Grimsby in 1999, three years after arriving in the country, the court heard.
The pair met when Ms Wilson, now 33, was training to be a nurse in 2015.She worked at Metwally's private pain clinic and later moved in with him at his home in Laceby Road.
Jurors heard the former nurse was lonely, had a history of depression and suffered a catalogue of illnesses which resulted her in quitting her job.
Prosecutor John Elvidge QC said the medic was secretly giving various drugs to Ms Wilson including fentanyl and ketamine, and had "knowingly fed her addiction" for drugs.
Metwally was found guilty of endangering Ms Wilson's life by administering anaesthetic drugs to sedate Ms Wilson; the supply of various controlled drugs or medicines and the possession of a controlled drug with intent to supply.
He was also found guilty of one count of fraud.
It took the jury less than 90 minutes to reach unanimous verdicts on the charges,
Reporting restrictions were lifted after he also admitted two unrelated voyeurism offences.
Judge Richardson told Metwally a prison term "of some substance" would be inevitable at his sentencing hearing on 20 September.
Dr Kate Wood, medical director at NLGNFT, said Metwally was "immediately excluded" from working at the trust when the allegations came to light and reported to the General Medical Council.
Chris Hartley from the Crown Prosecution Service said Metwally was a "dangerous" man who had "cruelly and deliberately" exploited Ms Wilson.
"By administering powerful anaesthetic and sedative drugs outside the safety of a hospital setting he was not only deliberately injuring Ms Wilson; he was endangering her life," he said.
Follow BBC East Yorkshire and Lincolnshire on Facebook , Twitter , and Instagram .
Send your story ideas to [email protected] .
Related Topics Grimsby More on this story Doctor in court over noxious substance attack
Published 5 August 2019 Related Internet Links HM Courts & Tribunals Service
The BBC is not responsible for the content of external sites..